The United States Census Bureau reports the US received 9.66 million gallons of imported biodiesel during August, down 29 percent from July and 18 percent below August of 2018 volume. Monthly biodiesel imports declined to a 13-month low as RIN values fell due to the EPA's release of 31 small refinery exemptions (SREs) August 9.  SREs allow small refineries to avoid having to comply with RFS blending mandates. These SREs reduced the mandated blending of renewable fuel by 1.43 billion gallons.  The impact on biodiesel was a reduction of 233.5 million ethanol equivalent gallons. For the year, biodiesel imports are 19 percent over the volume received through August of 2018. Four countries shipped biodiesel to the US during August with Canada accounting for 53 percent of the volume.  Germany and South Korea contributed 33 percent and 14 percent respectively. Canada has been the most consistent supplier, shipping 47 percent of the 110.7 million gallons received thus far in 2019.
Renewable diesel (RD) imports are not covered by the US Census Bureau but the Energy Information Administration (EIA) monitors these imports. EIA reporting lags that of the US Census Bureau by about a month.  July RD imports of 22.9 million gallons were down nine percent from June but 96 percent over July of 2018.  Biodiesel imports through August are 5.3 percent of the D4 mandate and renewable diesel imports through July lift the imported D4 total to 12.3 percent. Biodiesel and renewable diesel imports accounted for 17 percent of the D4 mandate in 2018.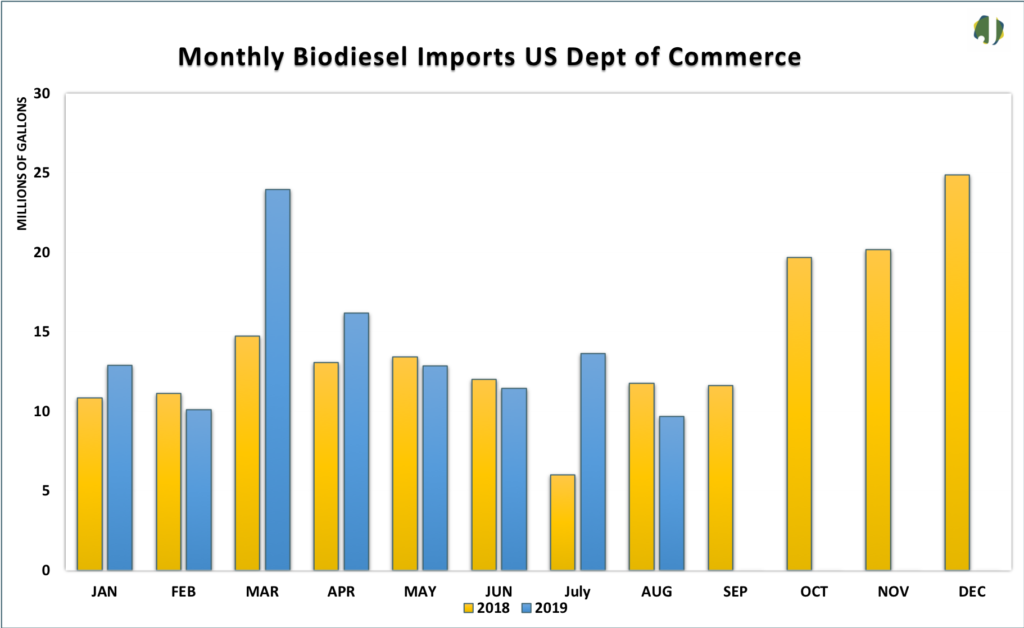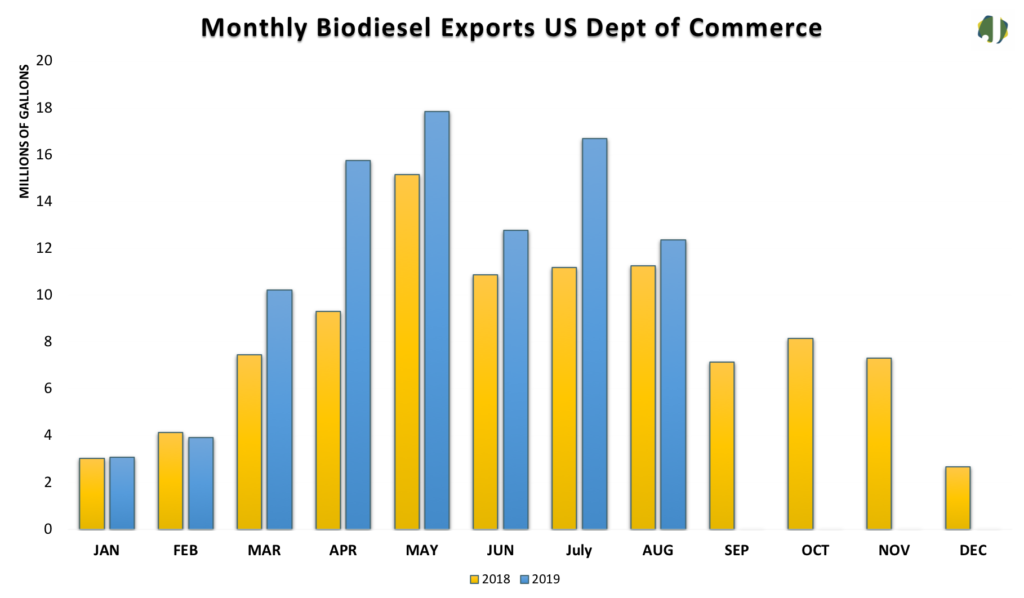 US biodiesel export volume exceeded import volume for a fourth consecutive month in August. Biodiesel exports totaled 12.36 million gallons, down 25 percent from July but 10 percent over August of 2018 tally. Exported biodiesel has been gaining traction and is up 28 percent compared with 2018. The US delivered biodiesel to five countries during August, which was unchanged from July. Canada was the primary destination receiving 99.7 percent of the export total.