Sales of non-GMO proteins are decelerating according to the Jacobsen insight, despite a continued rise in the trend. The Jacobsen Non-GMO dairy protein index declined 18% in October month over month was driven by an 18% decline in non-GMO milk sales. Year over year, the non-GMO index was up by approximately 4%. The trend in sales volumes continues to point upward as the 3-month moving average continued to rise. Year to date in 2019, the Jacobsen non-GMO protein index is up by 7%. This should continue to put upward pressure on non-GMO grain prices including non-GMO corn prices and non-GMO soybean prices. Non-GMO corn and non-GMO soybeans are used in Non-GMO animal feed which unpins the price on non-GMO proteins.
The 3-month moving average of the non-GMO protein index decelerated in October 2019. The year over year increase declined to 2%, after rising by 28% in October of 2018.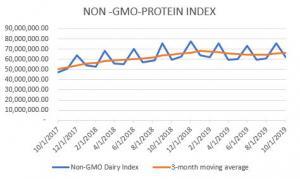 The index is calculated using a weighted average of sales including non-GMO milk, butter, and cheese, throughout the United States. Total non-GMO protein sales are expected to rise during the balance of 2019, peaking in December at 77 million.
There appears to be a small uptick in organic milk utilization according to a recent AMS report. The USDA reported that During September 2019, organic whole milk utilization totaled 15.9 million pounds, up from 14.8 million pounds one year earlier. This comes as prices in the region remain unchanged according to the NOPA figures that were released at the beginning of 2019.
This survey period, the AMS reported that total organic retail advertisements, throughout the United States, grew at 43% week over week, sparked by a huge increase in the Southwest ad volume, and northeast organic retail advertisements.