California Air Resources Board (CARB) released third quarter consumption data for the Low Carbon Fuel Standard (LCFS) this afternoon.  Third quarter credit output was three percent over second quarter production and 35 percent above the third quarter of 2018.There were 3.78 million credits produced in the third Quarter, which surpassed CARB's forecast of 3.67 million.
Deficit production was also higher than forecast.  Third quarter deficits of 3.9 million were up 0.3 percent from the second quarter and 25 percent above third quarter of 2018.  The credit bank continued to contract, declining by 248,843 credits during the third quarter.  The credit bank has declined in six of the past seven quarters and at 8.1 million credits, it is 1.84million credits off its high of 9.95 million.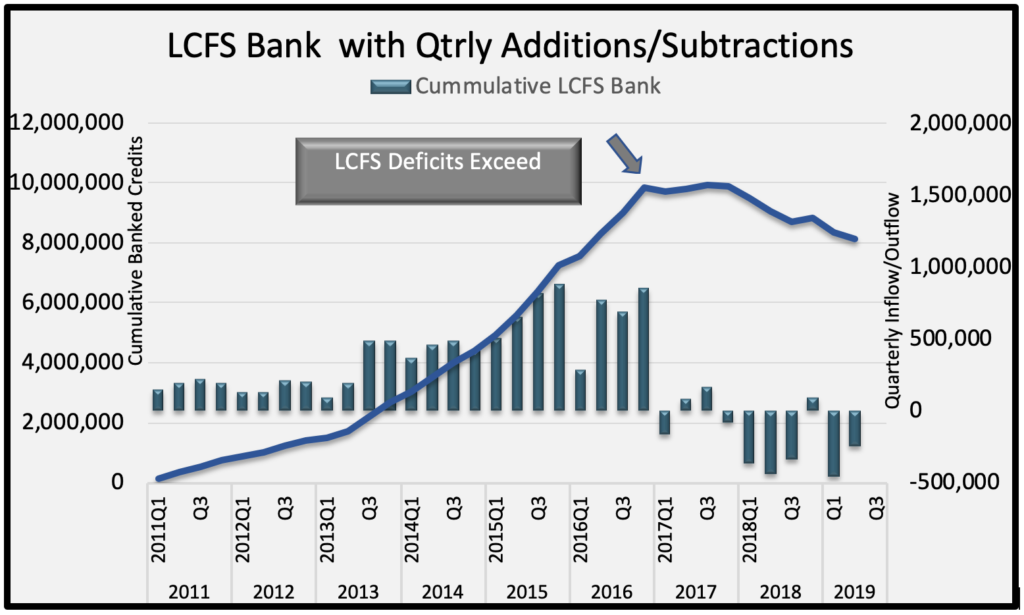 Biodiesel and renewable diesel both failed to meet program expectations during the third quarter.  Biodiesel volume of 57.4 million gallons was below CARBs forecast of 68.75 million but above The Jacobsen's expectation of 54 million.  Renewable diesel consumption totaled 133.2 million gallons, falling short of CARB's 137.5 million estimate and below The Jacobsen's 151.4 million.
Renewable diesel and biodiesel generated 1.57 million credits in the third quarter.  This missed both CARB and The Jacobsen's expectation of 1.66 million.
The strongest performing credit generators of the third quarter were:
Ethanol 31%
Renewable Diesel 28%
Electricity 14%
Biodiesel 13%
Biomethane 7%
Through the first three quarters of 2019 the strongest credit performers are:
Renewable Diesel 31%
Ethanol 28%
Electricity 12%
Biodiesel 12%
Biomethane 6%
Potential ramifications of US Appellate Court decision to vacate three small refinery exemptions (SREs)
The US court of Appeals for the 10th Circuit on January 24 vacated three SREs granted by the Environmental Protection Agency (EPA) in 2017.  According to the ruling, EPA overstepped its authority by granting waivers to refineries that had not received such waivers in the prior year.
The Court noted that RFS program provided a blanket exemption for all small refineries from 2006 through 2010 in order to be able to fully participate in the program going forward.  The DOE issued a small refinery study in 2009 which showed that small refineries did not face disproportionate economic hardship under the RFS. Due to inadequate small refinery input, the study was revised in 2011.  The revised report found that 21 small refineries would suffer disproportionate hardship at that time.  As a result, the refineries were exempt from being obligated parties for a minimum of two additional years. The EPA says on its website that for 2011 and 2012, 24 small refineries were exempt.
The Court states that the amended Clean Air Act allows the "EPA to grant an "extension" of the small refinery exemption – not a stand-alone "exemption"-in response to a convincing petition. The statue limits exemptions to situations involving 'extensions," with the goal of forcing the market to accept escalating amounts of renewable fuels over time. Once a small refinery figures out how to put itself in a position of annual compliance, that refinery is no longer a candidate for extending its exemption.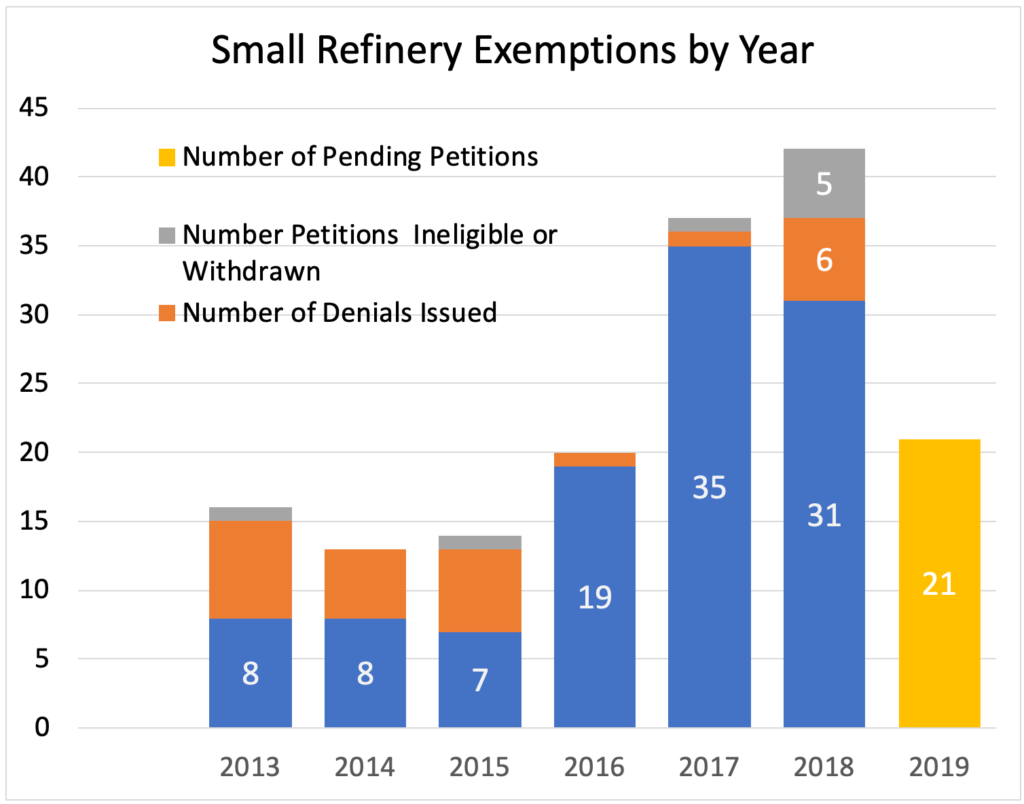 According to EPA data (see chart below) eight SREs were granted in 2013 and 2014.  In 2015 there were only seven SREs granted.  This means that the exemptions granted in 2016 through 2018 should have been limited to seven.
According to the Court, the number of exemptions "should have tapered down from 2013 forward, because the only small refineries from this group which continued to be eligible for extensions were ones that submitted meritorious hardship petitions each year." EPA "from 2016-forward has opened up a gaping and ever-widening hole in the statute."
The Court ruling will likely be challenged, but if upheld, there would be large amounts of prior obligations that would become due with very limited waiver exposure in future years.