Organic Turkey Production continues to trend higher according to The Jacobsen insight. Historically production picked up in October but eased during the Q1. In 2020, this dynamic appears to have changed pushing organic turkey slaughter by weight to all-time highs in March. The trend, designated by the red linear trend line shows a robust movement from left to right. Not only has the head slaughter number increased by the average weight has also surged. Additionally, the number of organic turkey producers and handlers has increased by approximately 8% for the first 5-months of 2020 compared to the end of 2019. Turkey will take approximately twice as long to mature to slaughter relative to organic broilers. They also can eat other products, as they have a more sophisticated digestive system.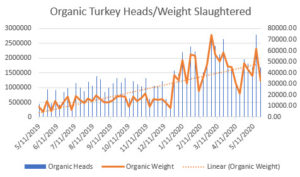 Argentina Eyes China as Next Big Organic Export Market
JD.com Big Data Research Institute, released its 2019 JD Fresh Industry Research Report, which shows that good quality and higher safety are driving consumers to buy imported organic products in China. The main factor; nearly 70% of people have bought "organic fresh products", nearly 60% of consumers accept organic products less than 40% more expensive than ordinary products, and consumers pay more attention to organic products when buying vegetables and fruits.
According to the Economic Daily-China Economic Net, in recent years, the demand for organic products has risen significantly, and the production and consumption of organic products have grown rapidly. Australia is currently the leading organic supplier to China, mostly organic dairy products and meats. It is followed by the US, Europe, and Japan. The Argentine Agency for International Trade and Investment (AACI) believes that there is ample room to increase exports because it specializes in numerous organic products that aren't yet exported to China.