Hempseed oil has been traded globally for many years now.  The oil has properties that make it desirable as a food item, though there are challenges to its growth as a cooking oil.  The oil is high in Polyunsaturated Fatty Acids (PUFA) and has a low smoke point.  It has been a carrier oil of choice for the burgeoning CBD market, and this has driven the market significantly.  Cosmetics, with or without CBD, are also increasingly using hempseed oil as an ingredient.
Hempseed oil has also enjoyed its own entourage effect, and its popularity in part owes to consumer confusion.  Over the past year, Amazon has marketed a number of products containing hempseed oil that appear when searching for CBD oil.  The marketing is misleading, with labeling that easily confuses consumers, thinking they are buying CBD extract.  In some cases, the hempseed oil product is labeled as hemp extract, with 1000 mg and 33 mg/serving.  It is no wonder some customers have found no efficacy with CBD products.  Here is an example of a Colorado based company, that also claims the product is from Colorado hemp, extracted with CO2: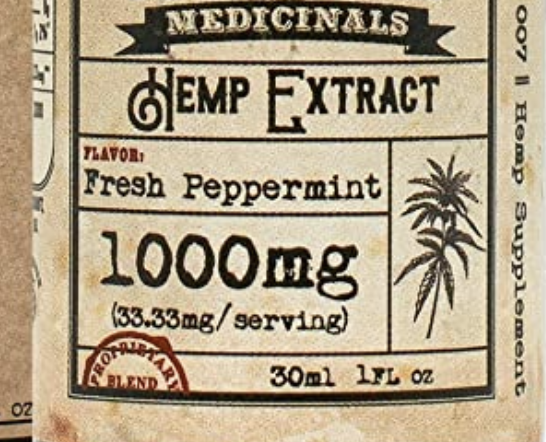 Hempseed oil has a wide range of industrial uses, particularly as an ingredient in paints, varnishes and coatings.  Hemp Shield utilizes the oil in their proprietary coatings, with UV stabilizer, and contains low Volatile Organic Compounds (VOC).  It is also being used as a bar chain lubricant for chainsaws.  Hempseed oil has similar properties to linseed oil (flax), creating a breathable coating for wood.  More products will be developed in the coming years with manufacturers eager to offer low VOC products.
Canada has been a leading exporter of hempseed and hempseed oil, and China has also been a major global supplier.  Pricing for bulk wholesale hempseed oil has trended around $8-12/Kg, with the lower end representing transactions originating in China.  The US has been a major importer of hempseed oil, but this import picture is swiftly evolving with the new hemp economy emerging in the US.
The US imported over a million Kg from Canada in both 2018 and 2019, and 18,130 and 179,193 Kg respectively for these years from China.  The US has a clear preference for Canadian oil. The near tenfold increase of hempseed oil imported from China between 2018 and 2019 represents the growth of the CBD and cosmetics segments, as well as newly developed consumer products like Hemp Shield.  The precipitous decline from 2019 to 2020 may reflect the new US hemp economy ramping up but is also a result of coronavirus impacts on trade, particularly with China.  The chart below illustrates the trends: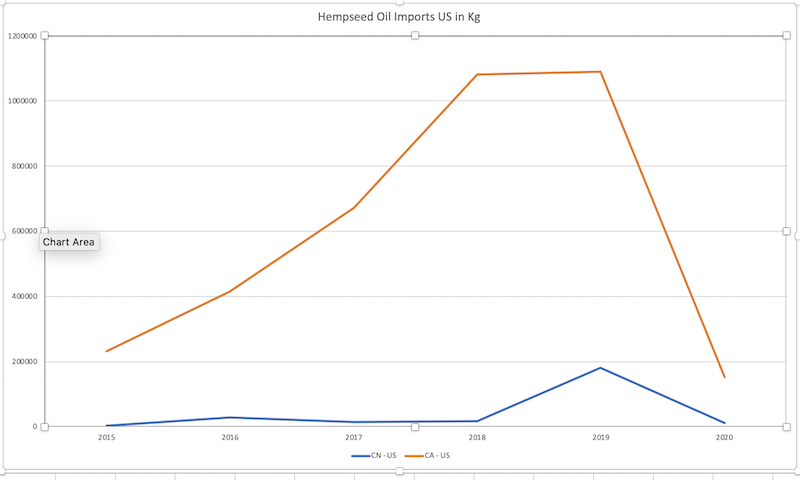 The increase demand globally for hempseed oil should help to drive the segment in the US.  We have heard reports of sub-$1/lb forward contracts for Organic hempseed issued by a Canadian operator to producers in the Northern Plains in 2020.  This is a downward trend in pricing that may be a result of excess supply, as Canada maintains large inventory.  In the long run, demand for hempseed oil should continue to grow, and help to support hempseed prices.