Organic wheat prices remain stable with little activity along with organic corn prices which are hovering near $7.0/$7.10 in the mid-west. With organic corn prices as depressed levels, organic wheat is not a clear substitute as an energy source to replace organic corn for feed. Organic milling wheat has seen an uptick in demand due to perceive increases in capital expentitures in the organic wheat food sector.
The Jacobsen is hearing that some consumers are covered for all of 2021, while most appear to be covered until the Q2. While organic corn prices have traded as slow as $320 per short ton on the east coast, they are offered closer to $335 on the west coast.
Organic chicken weight slaughter has rebounded sharply and has recaptured the linear trend, recovering from the lows seen in April. The uptick in the slaughter numbers by weight is a function of robust demand for organic chickens as well as a rebound from the closure of slaughterhouses during April when COVID swept across several plants. It appears that all of the slaughterhouses that were closed on the east coast have reopened. There are a few in the mid-west that are currently closed, none appear to be chicken slaughter operations.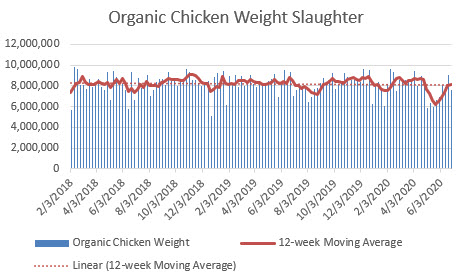 While the organic chicken weight slaughter declined and rebounded recent increase could allow the total for the balance of 2019/2020 to meet the historical average. The average of the past 12-weeks of organic chicken weight slaughter is back to the highs last seen in March. For the 12-months ending June 2020, organic chicken weight slaughter is down 2% year over year. With most of the organic chicken slaughterhouses back online and higher volumes of organic broiler sales according to The Jacobsen, organic chicken weight slaughter is likely to continue to move higher in the coming weeks.