Organic soybean meal prices are continuing to bifurcate, with domestic meal remaining close to $800 per short-ton while imported meal prices have drifted lower down to the $760 range. Prices in India have slipped below the $600 per metric ton level, but transport costs to the US have remained elevated.
There are several consumers in the US, that will not use imported organic grains as part of their feed products, and appear to be willing to pay higher levels for products that have their origins in the United States. Unfortunately, if you are a domestic farmer and do not have access to those customers, you are competing against a meal that has experienced a seasonal price decline ahead of a new crop. This interest in domestic originated organic soybean meal, helping to further diverge the price between the US and organic soybean meal imports.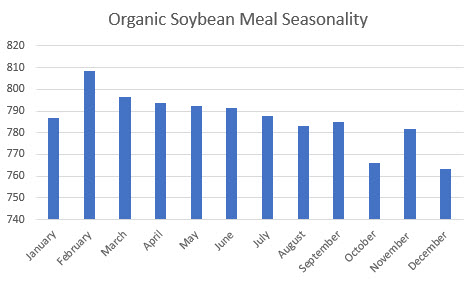 You can see from the average monthly price of organic soybean meal mid-west picked up at the crush from The Jacobsen, that the price trend has historically declined throughout the year peaking in February and trending lower throughout the year. The decline in the average price is mimicked when looking at a seasonal chart of organic soybeans mid-west picked up at the farm. Prices remain buoyed and while the volume of organic soybean meal from India is expected to increase, there will still likely be fits and starts as potential delays in shipments generate volatility in the organic soybean meal market.