Organic corn prices remain stable and while imports are likely to tail off slightly during the balance of the 2019/2020 season, few still need to cover positions. Prices in the Q4 are trading near $340 per short ton delivered in Pennsylvania. There does appear to be a carry. Prices for the Q3 have traded near $360 per short ton in PA. Demand for feed is stable but could be rising if continued demand at the retail level for organic animal proteins (organic chicken, eggs, dairy) remains on an upward trajectory.
What is clear is the organic chicken slaughter has rebounded from its drop which was experienced in April. Organic chicken heads slaughtered increased to a 6-month high in the second week of June nearly matching the 2019 highs for heads slaughter. After bottoming in late April the 4-week moving average of Organic chicken heads slaughter rebounded sharply, as slaughterhouses attempt to play catch up. A question for investors in this space is whether meat demand will continue to rise. Plant-based companies believe they have the upper hand.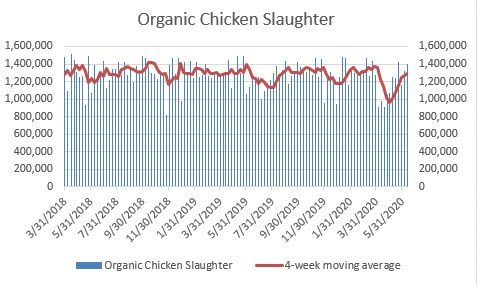 On Tuesday, Starbucks announced that it would sell plant-based breakfast sausages, throughout the summer. The CEO of Impossible Foods was on CNBC on Tuesday and seat that he believes the meat industry might be obsolete in 15 years He claims that from a nutritional standpoint the plant-based products match the protein quality and content of the animal products that they replace.