California is well known for being at the forefront of economic and environmental issues. They were one of the first states to develop a comprehensive air quality improvement plan and were granted the authority to set vehicle standards that are more stringent than the Federal standards.  The economy of California is the largest in the United States and would rank as the fifth largest in the world, ahead of India and behind Germany. California was the first state to adopt a Low Carbon Fuel Standard (LCFS) in an effort to curb pollution, reduce greenhouse gas emissions, and transition away from liquid transportation fuels.
California's LCFS program has grown from a startup that encouraged 1.8 million gallons of renewable diesel consumption in 2011 to a Nationally recognized program that consumed 384 million gallons of renewable diesel in 2018.  LCFS credit prices have moved from the upper teens in 2014 to over $200 per credit today.  Revenue generated through credit trading, which is used to further incentivize progress within the program, increased from $723.5 million in 2017 to $2.48 billion in 2019.
California's LCFS program has shown a certain resiliency and foresight that the US Renewable Fuel Standard (RFS) has not.  While the RFS has been plagued by an on again/off again blenders tax credit problem and small refinery exemptions (SREs) that undermine mandates.  California's LCFS continues to move forward and has become a role model that is being looked at and/or adopted in other states and countries.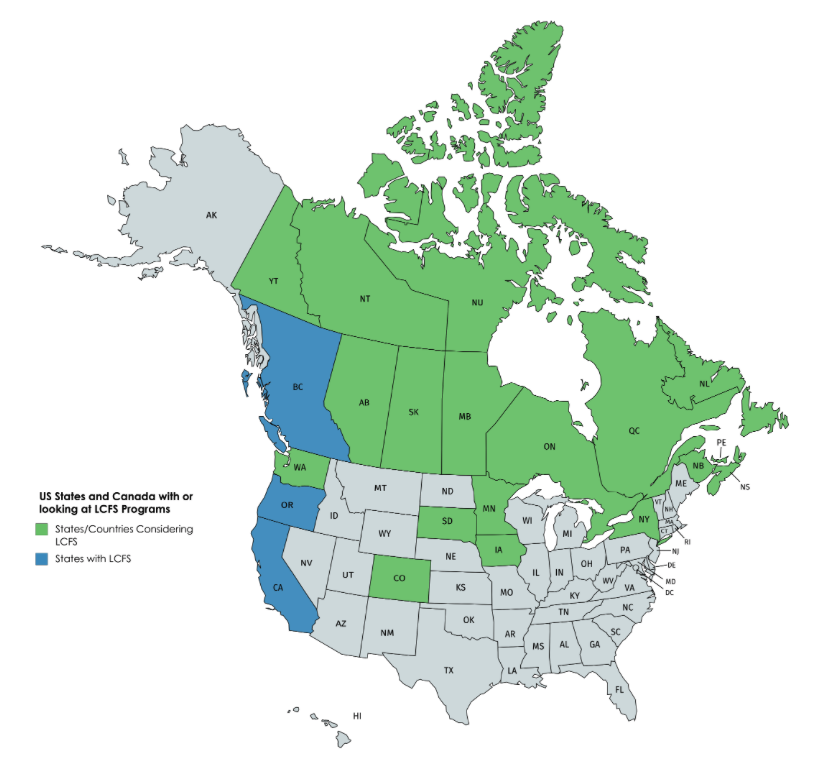 The Oregon Clean Fuel Program – In Place
Oregon was the first state within the US to develop and implement a LCFS-like program.  In 2009, the state legislature authorized the Environmental Quality Commission to reduce the average carbon intensity of transportation fuels 10 percent over a 10-year period.  In 2015, the state legislature directed the Department of Environmental Quality (DEQ) to fully implement the Clean Fuels Program (CFP), which began in 2016. CFP requirements set annual carbon intensity (CI) standards for gasoline, diesel and the fuels that replace them. CI is the measure of greenhouse gas (GHG) emissions associated with producing and consuming a fuel, which is measured in grams of carbon dioxide equivalent per megajoule.  Fuel providers that import gasoline, diesel, ethanol, biodiesel, and renewable diesel into Oregon are referred to as 'Regulated Parties' and must meet the annual targets stated within the program or purchase credits from registered parties to meet their obligation.  This program is very similar California's LCFS program. In fact, if a regulated party has an approved fuel pathway by the California Air Resources Board, all they have to do is adjust for the difference in the transportation distance to Oregon and submit it to the Oregon DEQ.
British Columbia: The BC-LCFS – In Place
In 2008 British Columbia implemented The Greenhouse Gas Reduction Act, a LCFS program largely based on California's Policy.  The Act establishes requirements for renewable content and greenhouse gas emission intensity reductions.  The initial goal was to decrease the average CI of transportation fuels 10 percent by 2020 relative to 2010. Part of the Clean BC initiative extends the BC-LCFS to a 20 percent carbon intensity reduction by 2030, relative to a 2010 base year.  The BC, Oregon, and California programs all follow the same framework to a large extent.
Canada's Clean Fuel Standard
States have been the typical "think tank" for clean fuel and low carbon programs but given the success in California and the increasing problems associated with climate change, countries are also looking for additional methods to lower their overall carbon footprint. The Government of Canada plans to reduce greenhouse gas emissions (GHG) through the use of lower carbon fuels, energy sources, and technologies. Canada currently has a federal Renewable Fuels Regulation (RFR)in place. The RFR is volumetric and will be replaced by the Clean Fuel Standard. The objective is to achieve 30 million tonnes of annual reductions in GHG by 2030. This will support Canada's goal to reduce national emissions 30 percent below 2005 levels by 2030.  The Clean Fuel Standard will separate requirements for liquid, gaseous, and solid fossil fuels. This is unique to Canada's program. The liquid stream will be developed first, with final regulations expected in 2020. The carbon intensity of liquid fuels will be reduced by 10 g of CO2e per MJ below their reference carbon intensity by 2030. Regulated parties can meet compliance by reducing the carbon intensity of fuels produced or imported. A key pathway for this will to include renewable content in their product. Compliance credits can be generated by lowering the carbon intensity throughout the lifecycle of the fuel. This can be accomplished through fuel switching and the deployment of energy source and technologies that displace fossil fuels. Credits will be tradeable within each stream of fuels. Consideration is being given to allowing some use of credits across streams.
Washington State and Puget Sound – Proposed
Washington State had attempted to pass a statewide LCFS program following California's lead.  The program would have meshed with those of their neighbors to the North (BC) and the South (Oregon). Legislation would have established a start date of January 1, 2021 for the LCFS, but it did not pass in 2019. A second attempt will be made this year for a state wide program. Without missing a beat, the four counties around Puget Sound proposed the Puget Sound Clean Fuel Standard (CFS).  The Puget Sound CFS is more ambitious than California's LCFS program and is similar to Oregon in its approach. Its purpose is to reduce GHG and prevent air pollution by reducing full fuel-cycle carbon intensity of the transportation fuel pool by 25 percent below 2016 levels by 2030. If passed, its first compliance year would be 2021, for reporting purposes only.  Emissions reductions would begin annually in 2022. Covered fuels, Opt-In fuels, and exemptions follow Oregon's framework.
New York LCFS – Proposed
On February 8, 2019, Assembly Bill 5262 was advanced to establish a low carbon fuel standard in New York.  The New York LCFS is intended to reduce carbon intensity from the on-road transportation sector by 20 percent by 2030, with further reductions to be implemented based upon advances in technology. This bill was amended on May 30, 2019 and referred to Environmental Conservation January 8, 2020.  The New York LCFS claims to be the most ambitious in the country due to its climate goal of reaching net-zero emissions by 2050. Governor Cuomo's 2021 Budget address on January 21, made the statement that New York will be the most aggressive climate leader in the world by establishing a $33 billion five-year plan to combat climate change, with $6 billion for land-based renewables.
Colorado LCFS Feasibility Study
Colorado launched a feasibility study to understand how much progress might be made toward reaching their climate goals through the use of a LCFS like program. Colorado's Climate Action Plan aims to reduce greenhouse gas emissions by at least 26 percent by 2025, at least 50 percent by 2030, and at least 90 percent by 2050 from greenhouse gas emission that existed in 2005. The Colorado LCFS feasibility study may be completed by the summer of 2020.  Preliminary conclusions could be used to shape a policy in the spring. Colorado has joined California and nine other states in adopting zero emission vehicle (ZEV) mandates to supplement reaching their climate goals.
Midwest Clean Fuel Policy Initiative
The Great Plains Institute has put forth a White Paper that explores the possibility of creating a market-driven approach that could lead to a Midwest low carbon fuel program.  Minnesota, Iowa and South Dakota are some of the states believed to be considering participation in a low carbon fuel program tailored to the needs and strengths of the Midwestern states. Minnesota has previously researched the possibility of a Minnesota LCFS program but has not adopted one. In order for Minnesota to meet its goal of reducing greenhouse gas emissions by 30 percent by 2025 and 80 percent by 2050 they have adopted the Low-Emission Vehicle Standard and the Zero-Emission Vehicle Standard. They join 14 other states and the District of Columbia in the LEV standard and 11 other states in the ZEV standard.